History 1913 to today
The land on which the airfield was built was farmed by the Taylor Family from as far back as 1913 and continued until the site was selected by the RAF as a proposed airfield and requisitioned by compulsory purchase.
During 1942-1944, the 820th & 829th Engineer Battalion (Aviation) of the US Army occupied the area and started construction work. It was built by the black Americans to AMDGW specification for a class A heavy bomber station, and followed the general pattern with a single 2000 yard runway and two intersecting 1400-yard runways. Two T2 hangars and fifty aircraft had hard standings in common with other stations built towards the end of the construction programme. The hard standings were of the so-called "spectacle" type rather than the "frying pan" type.
Accommodation was provided for 2,900 personnel in dispersed nissen hut living sites to the south west of the field. Occupied by the 493rd Bomb Group in April 1944 (named "The Fighting 493rd, latterly known as "Helton's Hellcats" after the groups first CO, Colonel Elbert Helton) Debach was the last Eighth Air Force heavy bomber station to become operational: the group flying its first mission on D-Day 6th June 1944.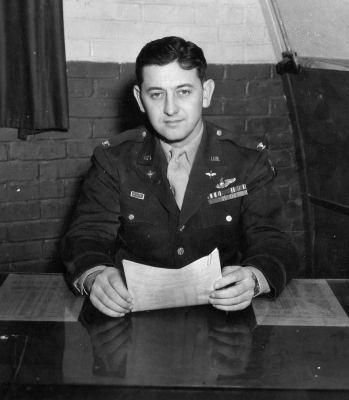 Elbert Helton