Archived News
There are several 'New Kids on the Block'!!
The Dodge Command Car arrived in March, 2015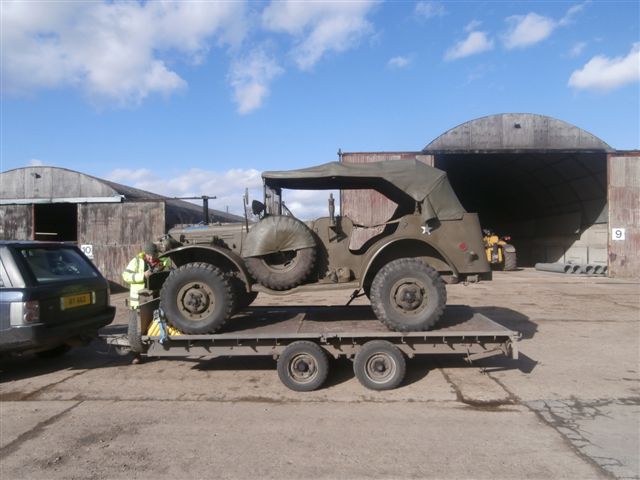 Ward La France Wrecker arrived in October, 2014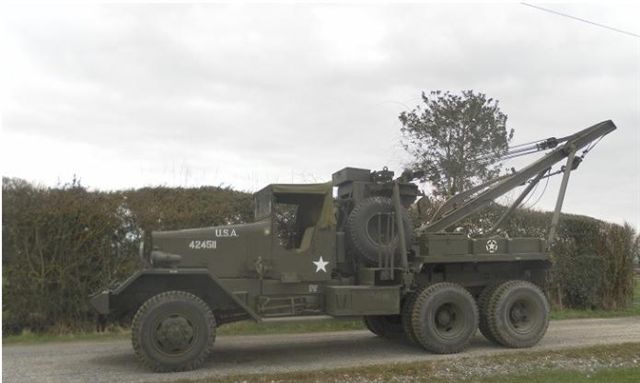 .
K2 Ambulance - arrived in July 2015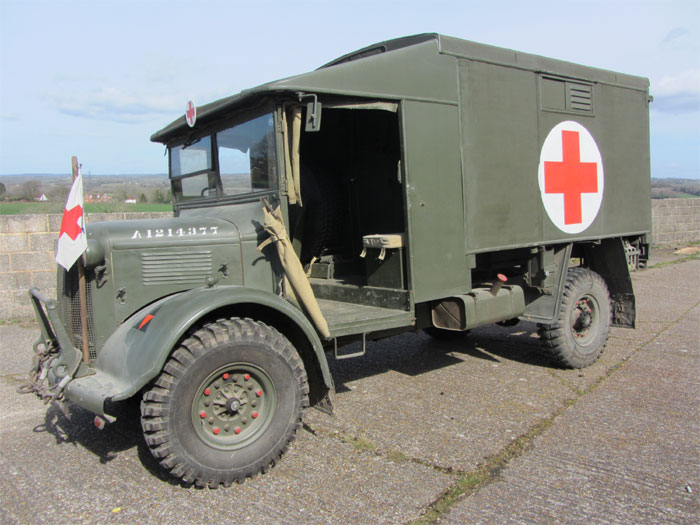 GMC Blood Wagon - arrived August 2015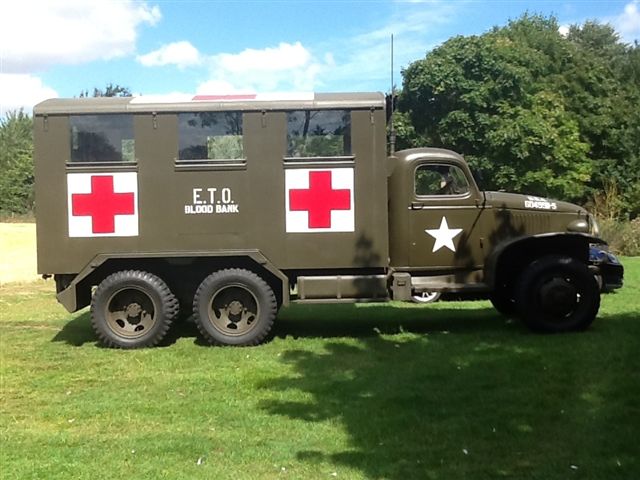 Details are on the Vehicles page.
More news on these vehicles once they have settled in.
Donation from America
Following a recent holiday in Savannah, USA by Prilly and Richard, the museum received an extremely generous and rare donation. In fact, two donations. The first a Rare Hebard Aircraft Tug - further details can be found on our Vehicles page. The second is a Wright Cyclone B-17 engine. Both being donated by Mr Don Brooks of "Liberty Belle" fame. The engine was recovered from the bottom of a lake in Labrador by Don and his team, but could not be restored. It now takes pride of place in our "Fire Station" at the museum, and it is our intention to stand it upright so its full scale can be seen.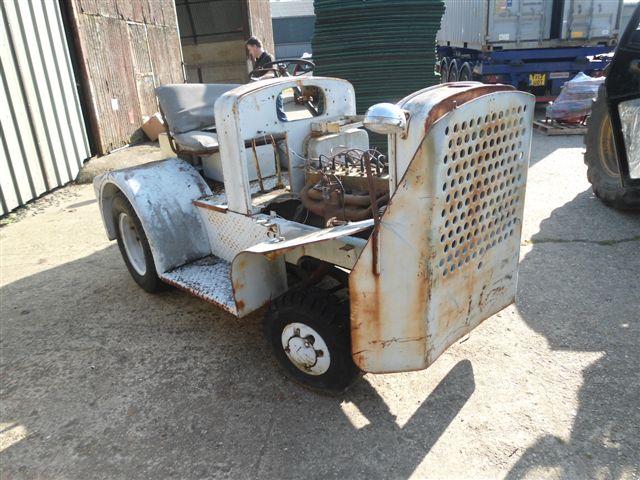 1947 Wright Cyclone Engine

Hebard Shop Mule
Our thanks go to everyone concerned in the donation, loading and shipping of these items .
Remembrance Day 2014
Once again the 493rd BG Memorial was used for our Remembrance Service. Over 70 people attended and after the service all came back to our Visitors Center for refreshments.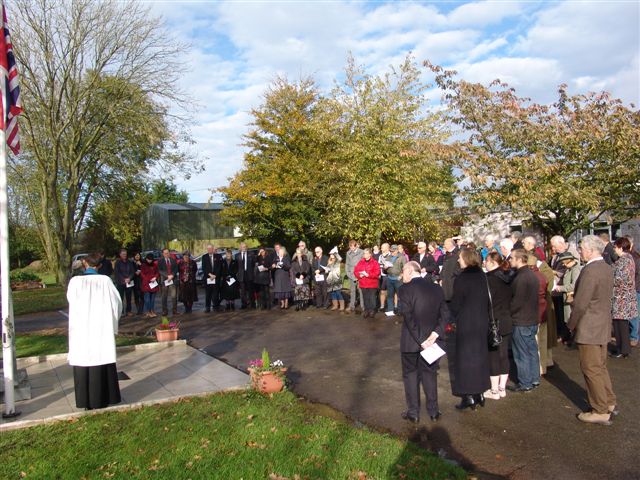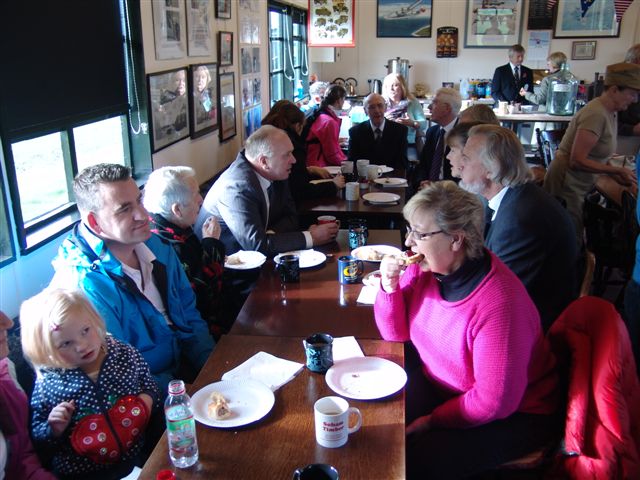 Wedding Spectacular
(note - due to sale of the Plymouth this vehicle is no longer available).
If you want to make a difference to your big day - try using a military vehicle for your transportation to church. Please contact us for details.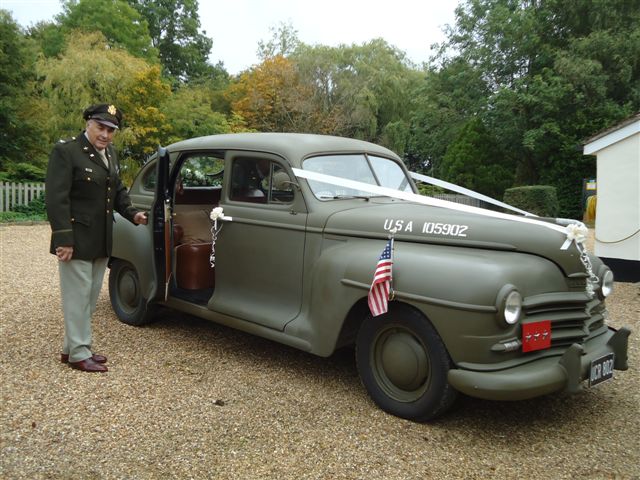 Remembrance Day 2013
Last November, the remembrance service was attended by so many local people and by the Volunteers of the 493rd Bomb Group Museum. Richard and Prilly were unable to attend this year as they were visiting the 'Mighty Eighth Museum' in Savannah. Below is a photograph taken at the service and after that all were welcomed back to the Visitors Centre at the museum. Many thanks to all those who attended and to the people concerned with the catering afterwards.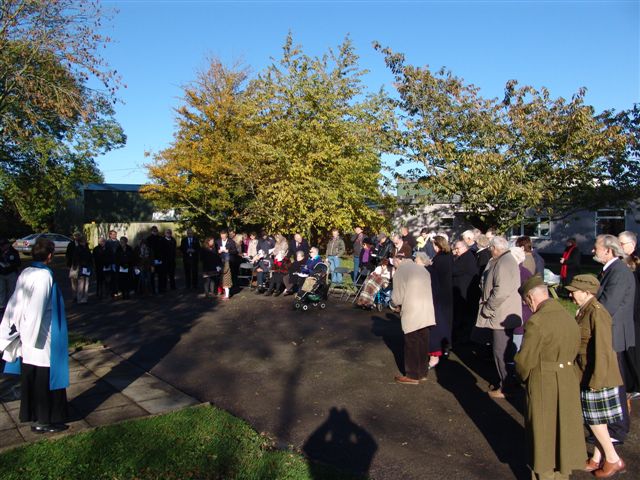 POW identified
Thanks to an email contact, we have been able to identify one of the four POW's on our photograph. See the history page under the POW & DP section
BIG NEWS
Today (02-08-13) after many years of researching we have put up the personnel list of the men and women who served at Debach Airfield during the war years. Please go to the History page and click on personnel roster.
Christmas Eve 2012
A 'Displaced Person' returns to Debach - for details, see the History page.
Remembrance Day - 11th November, 2012
On a cold but bright morning a crowd of 40 people joined the service held at the 493rd memorial site. It was very pleasing to see so many people in attendance. This year, even some of the local riders brought along their horses to show their respect for those who lost their lives while serving at Debach.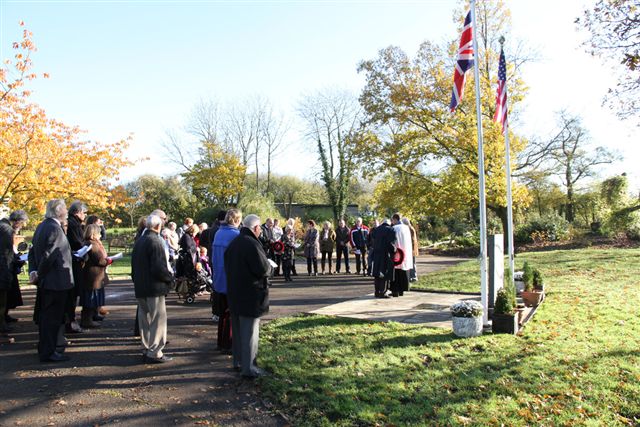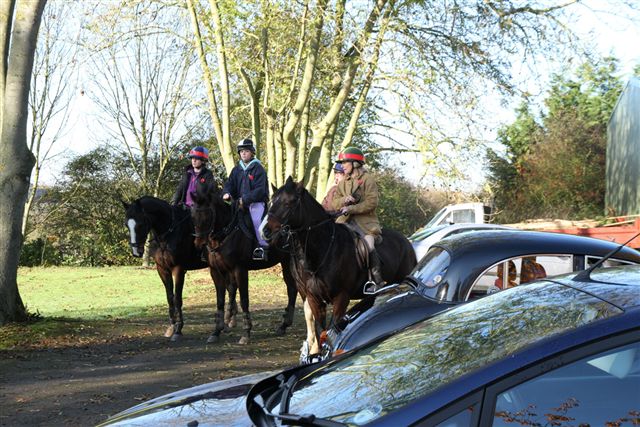 A recent visit by the daughters of Col. Elbert Helton
In July we were fortunate to receive a visit from Mary Pat and her sister Jo. The ladies were in the UK and having seen our website made a special effort to make a tour of the 493rd Museum here in Debach. We were honoured to show them round. Their father, Elbert Helton, was the first Commanding Officer of the 493rd Bomb Group.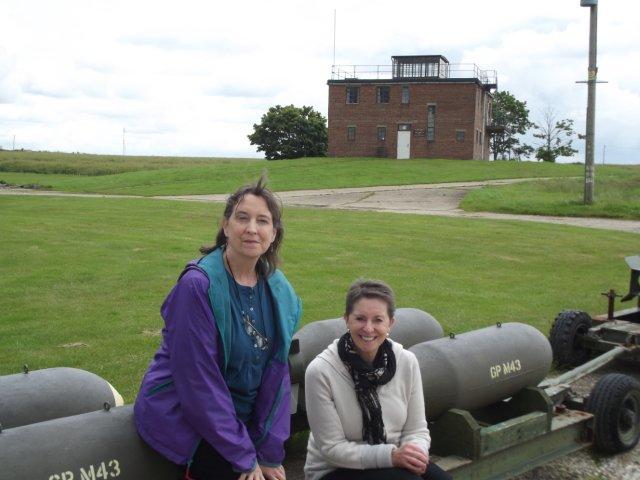 Mary Pat & Jo - daughters of Col. Elbert Helton
Veteran's Visit 2012
Once again, we were honoured by visits from three of our Veterans and two 2nd generation family members.
The veterans:-
Jack Feller who manned the Control Tower.
Bill Toombs – Flight Engineer
Jack Rude – Tail Gunner
Family Members :-
Nancy Toombs – daughter of Bill
David Schmitt – Son of Donald Schmitt (co-Pilot)
This year, a plaque was unveiled to commemorate the life of Cpl. Kenneth Blair. Kenneth was a weather observer with the 18th weather squadron serving at Debach and was killed when he was involved in an accident with a B-24. The plaque was unveiled by the attending veterans surrounded by the volunteers of the Museum.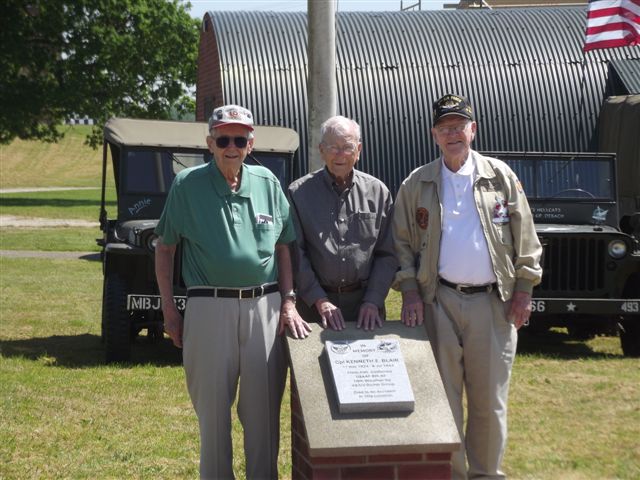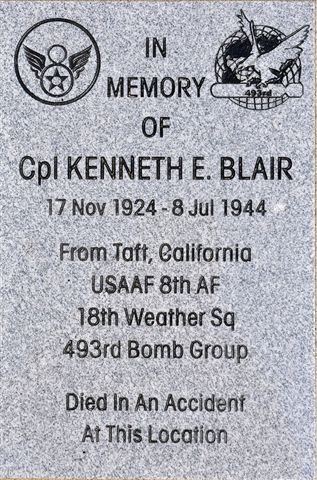 Aircraft return to Debach - 2011
This year we have had two fly-in visits. Firstly, five aircraft from the RAF Henlow Flying Club dropped in to see us. We then had nineteen aircraft coming from Norfolk, Suffolk and Essex. This was the largest assembly of aircraft at Debach since 1945.
Both of these fly-ins were organised visits for a full tour of the museums.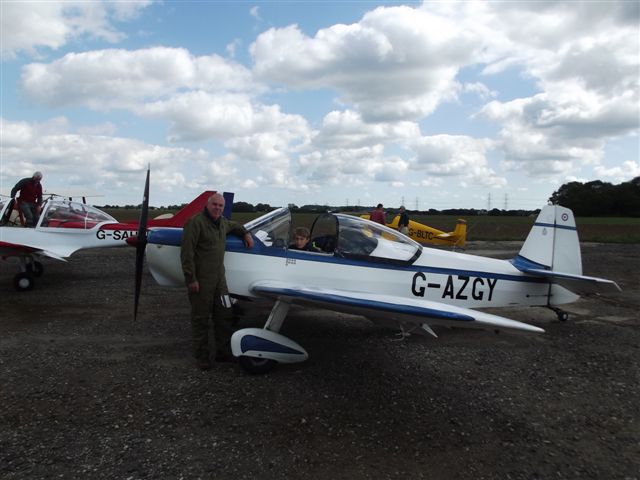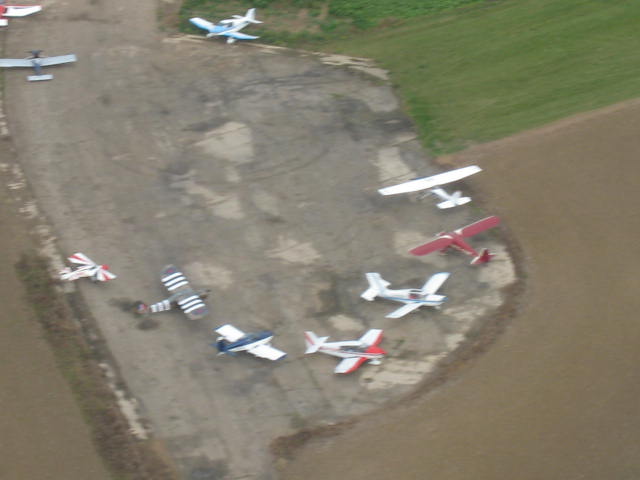 Veteran's Visit 2011
In May of this year, we were honoured by visits from three of our Veterans and two 2nd generation family members.
The veterans:-
Jack Feller who manned the Control Tower.
Bill Toombs – Flight Engineer
Jack Rude – Tail Gunner (This was his 20th visit since the war)
Family Members :-
Nancy Toombs – daughter of Bill
David Schmitt – Son of Donald Schmitt (co-Pilot)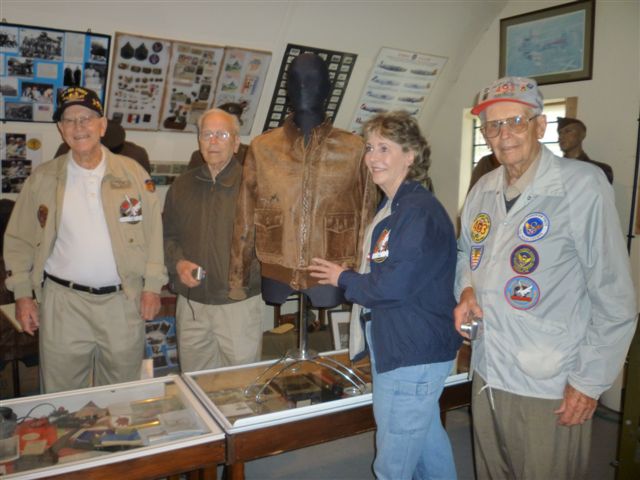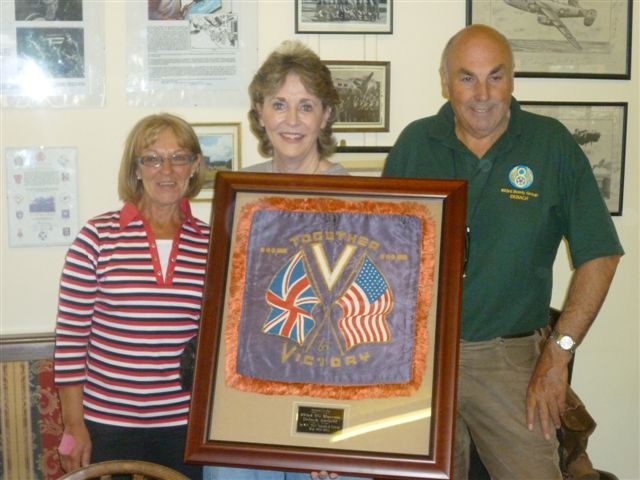 Nancy and Bill brought over an A2 jacket owned by Melvin Hurwitz (Radio Operator) and a treasured sweetheart pillow which was already framed and named. Both items have been kindly donated and can now be seen displayed at the Museum. Also donated at the same time was a pilot's navigation briefcase and 2 pilot's navigation computers. These were donated by Gil Gilbert (former President of the 493rd BG Association).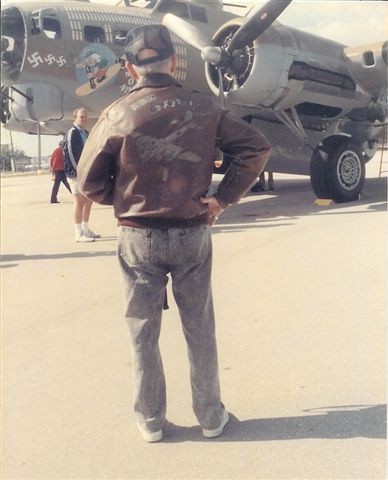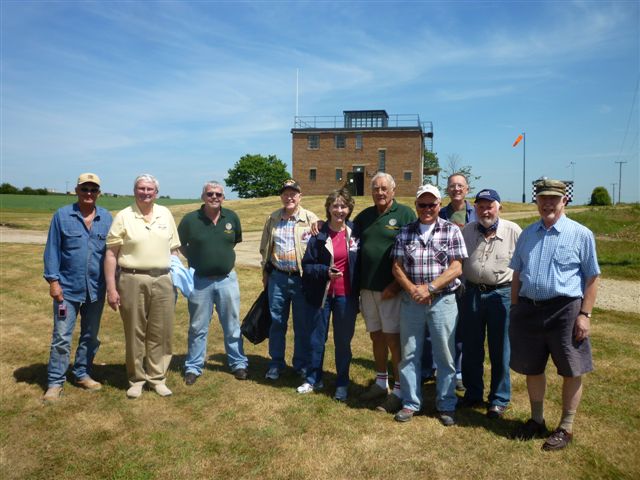 Melvin modelling his jacket

David, Bill & Nancy with the Volunteers
The Veterans and their families visited the airfield and were joined by numerous members of the public, along with several owners and their vehicles from the local Military Vehicle Trust.
THE NEW WEBSITE
It has been re-structured, re-designed & re-vamped from start to finish. "Never have so few, 'put up' so much". Now, we welcome your feedback and comments. Please view our e-mail address on the 'contact' page.Thanks from the 'Back Room Boys'
Also, restoration work is advancing on the fire shed.
For the latest news and photos of the restoration click here.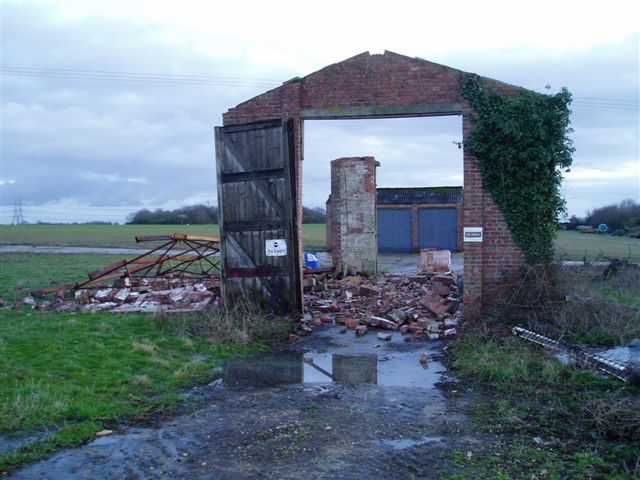 As you can see, this is not before time!!
Suffolk Sunrise 100 Bike Ride on Sunday 8th May 2011
The 493rd Bomb Group Museum Debach Airfield, Woodbridge was delighted to host this year's Suffolk Sunrise 100 Bike Ride on Sunday 8th May, with over 1,000 cyclists participating.
This is one of Action Medical Research's most popular rides which attracts over 700 cyclists so you'll always have company! The lowlands of Suffolk provide a wonderful cycling terrain which offers up an ascent every now and again, so if you don't like hills, this is for you!
These riders will be helping to stop suffering in children. Every tough mile ridden helps fund medical research to treat sick babies and tackle premature birth, to make life better for children with disabilities, and to target a group of rare diseases that together severely affect many forgotten children.

THE SUFFOLK LADIES' TRACTOR ROAD RUN - 12th June, 2011
The Suffolk Ladies' Tractor Road Run took place by kind permission of F G Taylor & Son on Sunday 12th June 2011 at 11.30am on Debach Airfield, near Woodbridge. The run took in the Suffolk lanes and some off-roading.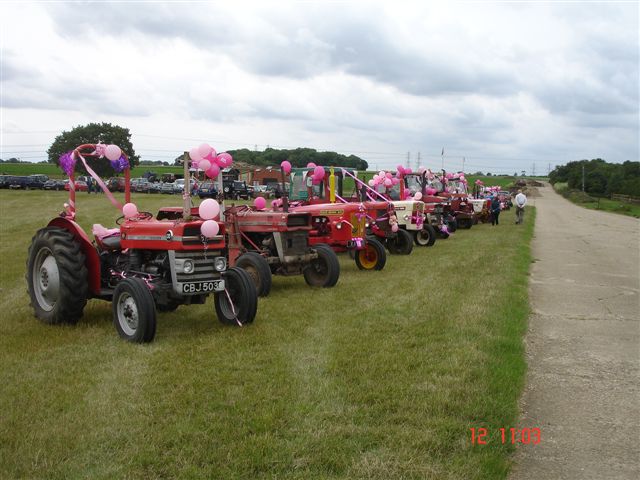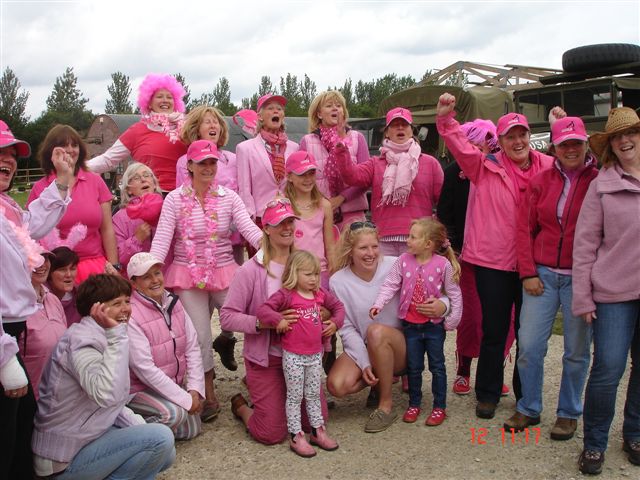 Family and friends were invited to bring along a picnic lunch on the airfield where the 493rd Bomb Group Museum was also open for visitors. This is a WWII museum on the site of the old American airbase now run by F G Taylor & Son and their band of volunteers. There is the meticulously restored control tower, an impressive collection of WWII memorabilia displayed in a Nissen Hut, a Home Front display and the tearooms.
This event followed the same formula as one run in South Norfolk by Julia's mother, Annie Chapman, for the past 7 years. This year they hope to pass the £200,000 mark raised for charity!

Presentation of the Guard House Bell
December 2005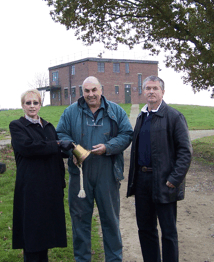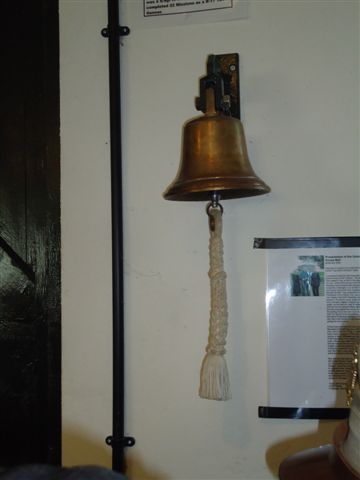 Attached is a photo of my wife and me presenting a bell to Richard Taylor.
I understand that this bell once stood at the guard house at RAF Debach. The story, as it was related to me, is that in the years after the war, some of the airmen from RAF Bawdsey were occasionally temporarily posted for a fortnight or so at RAF Debach, and that at some time they undertook to liberate the bell. They presented it to the Felixstowe Ferry Sailing Club, just across the river Deben from RAF Bawdsey, where it served in the bar for many years. During that time, the bell's clapper clapped out, so to speak, so the barman used to whack it with a hammer for the desired effect, which is why the bell is somewhat the worse for it. When the Sailing Club's bar was razed to make room for fancier accommodations, Mr. John Kennell of Felixstowe salvaged it from the skip that it had landed in, and stored it in his garage for some years.
During that time, I served a tour at RAF Bentwaters/Woodbridge as a USAF A-10 pilot, and at the end of that, in keeping with local custom, dragged off the lady in the picture, a local Felixstowe girl and a member of the Felixstowe Ferry Sailing Club, as my bride. Fifteen years after that, when Mr. Kennell learned that we were constructing an English pub in the basement of our home in Colchester, Vermont, he gave the bell to us. It was fitted with a new clapper and served admirably there for the last six years or so.
Now that we have seen the results of the efforts that Richard Taylor and others have put in to building a first-class museum at RAF Debach, it seemed proper to return the bell to its original home. However, we're not sure exactly where its original home might have been. Does anyone that was there during the war remember this bell, or where it was placed on the station?
Ted & Jenni Dudley
USAF Retired
Colchester, Vermont
Previous Open Days and Dances
Since 2001 Debach Airfield has hosted an annual '40s weekend of events'. This took the form of a 40s dance on the Saturday night, followed by a full day of entertainment on the next day.
The Open Day would attract up to 60 military vehicles, including a Sherman tank and a chieftain tank. These vehicles would be driven round the parade park and numerous jeeps would go up and down the see-saw ramp. Maurice Hammond supplied a spectacular flying display and the BBMF would on some occasions provide us with a fly past.
Re-enactment groups were set up in every nook and cranny including the Burmese mules and handlers who gave such an interesting insight into yet another wartime experience.
In other areas were activities for children and 40s style dancing demonstrations with a chance to learn a few moves to everyone.
The museums were open for visitors who wanted to savour wartime at Debach, as were several of the building on the Technical Site. Most of the Open Days saw the re-visitings of some of our veterans who travel all the way from the USA to tell us, first hand, their memories of their time spent at the Airfield.
Catering vans were in attendance and a PA system relayed all the different activities on site as well as supply the all time favourite sounds of the 1940s.
This annual event has always been very popular with the public, however, on two occasions we have suffered torrential rain and the phrase 'all our eggs in one basket' came to mind. Although still a good event, the heavy rain did dampen our spirits. June is notoriously wet and the two buildings at the technical site which house the dance and the Rocker Bar are only available to the museum in May and June as for the rest of the year they are used for grain storage on the farm.
We have therefore, decided to try another tact. From 2011 onwards we are not holding this major event but will be concentrating on embellishing our Open Sundays.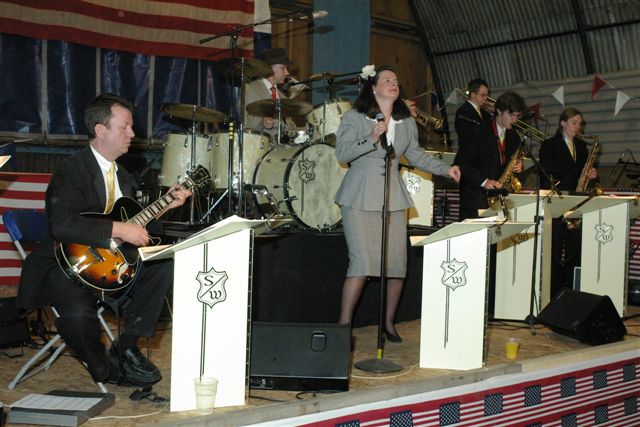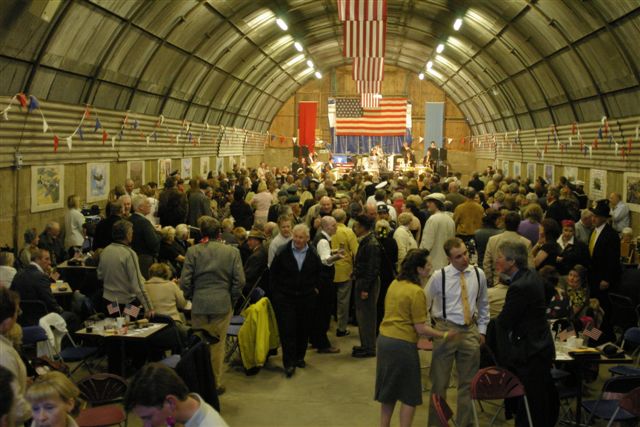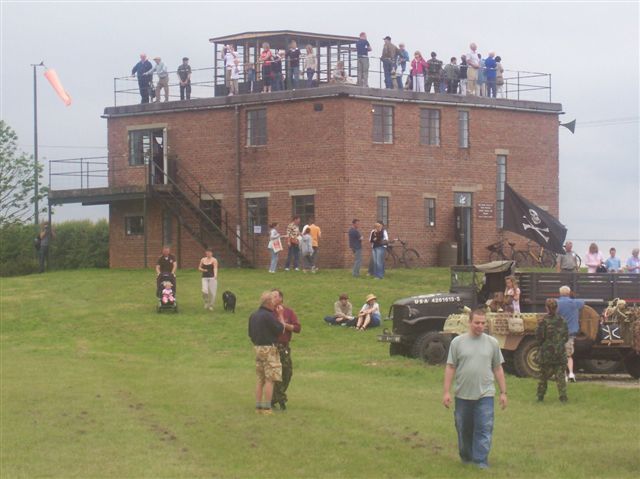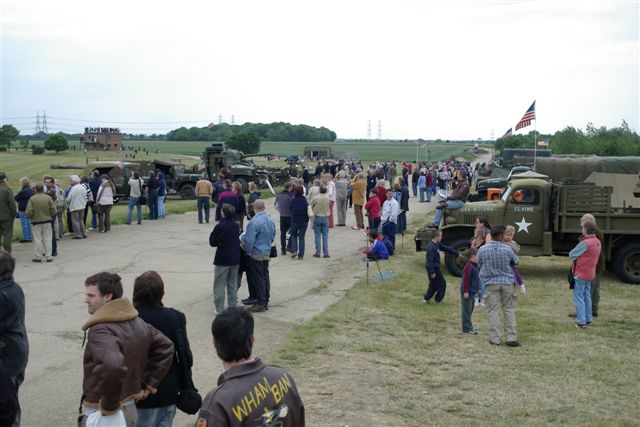 For more photographs, don't forget to visit the events gallery page.